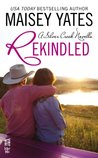 R

ekindled
by Maisey Yates
My rating: 4 of 5 stars
I thought this was a good book, easy to read, but predictable. I think the story should have had a better twist, but the book is a good happy read. Nice to read and didn't make me depressed. I am planning on reading more books by this author, this was the first one I have read from her and I do like her style.
Here is what the description about the book from Amazon:
In USA Today bestselling author Maisey Yates's latest Silver Creek Romance, a rich girl gets the privilege of starting over—and finding true love.
Lucy Ryan got everything she thought she wanted, going from high school queen to Manhattan trophy wife. But none of it was worth staying in a loveless marriage. So now she's back in Silver Creek—with no money and no place to stay, applying for a job cleaning someone else's house. And her potential employer is the last person she ever expected to see again.
Mac Denton can't believe the mean girl who once tormented him in high school is now his housekeeper. He looks forward to making her squirm for a few days before she runs back to her rich husband. But Lucy has changed, and he is surprised to find himself attracted to the beautiful, courageous woman she has become.
Lucy is finally ready to go after what she really wants from life. And what she wants more than anything is Mac. But is Mac ready to truly forget the past and embrace the future?
I did receive this book from NetGalley for an honest opinion.
View all my reviews
You can purchase this book from Amazon.com:
Rekindled (A Silver Creek Romance)